HIGHWIRE DAZE CONCERT REVIEWS 2003
---
THE HIGHWIRE DAZE SUMMER FESTIVAL REPORTS
REVIEWS FROM THE MILWAUKEE METALFEST XVII: Day One with Motive, Adrenaline, Cage, Summon, Enforsaken, Bongzilla, Enslaved, Lullacry, Winder, Asgaroth, Strapping Young Lad, Body Count, and more!

REVIEWS FROM THE MILWAUKEE METALFEST XVII: Day Two with Blatant Disarray, The Black Dahlia Murder, Since By Man, Wehrwolfe, Self Inflicted, Antipathy, Fleshgrind, Metal Militia, Skinless, Dysrhythmia, The Mentors, Zandelle, Disinter, Withered Earth, Forest Of Impaled, Bound & Gagged, Soul Torn, Veneficum, and more!

REVIEWS FROM KRAZYFEST 6: Day One with Blue Sky Mile, This Day Forward, A Static Lullaby, Ultimate Fakebook, Elliott, Midtown, and more!

REVIEWS FROM KRAZYFEST 6: Day Two with With Honor, Playing Enemy, Anodyne, Terror, Every Time I Die, Planes Mistaken For Stars, Hopesfall, Burnt By The Sun, Black Cross, The Hope Conspiracy, Atreyu, Mastodon, and more!

REVIEWS FROM KRAZYFEST 6: Day Three with Bear Vs Shark, Roy, Armor For Sleep, Christiansen, Helicopter Helicopter, Fairweather, Paint It Black, The Explosion, Dillinger Four, The Bouncing Souls, and more!

REVIEWS FROM FURNACEFEST 2003: Day One with Silverstein, Codeseven, Dead Poetic, As I Lay Dying, Haste, Anberlin, Hopesfall, and Further Seems Forever!

REVIEWS FROM FURNACEFEST 2003: Day Two with Forever Is Forgotten, Promise The Ghost, Vaux, The Program, Avenged Sevenfold, Embrace Today, Shai Hulud, The Trelese, A Small Victory, Taking Back Sunday, Finch, and HUM!

REVIEWS FROM FURNACEFEST 2003: Day Three with The Bled, Fear Before The March Of Flames, day Of Contempt, Evergreen Terrace, Beloved, Anatomy Of A Ghost, Glasseater, and Comeback Kid!

---
CURRENT REVIEWS
THE EARLY NOVEMBER
COUNT THE STARS
COPELAND
HIDDEN IN PLAIN VIEW
The Troubadour
November 25, 2003
An excellent group of younger bands performed at the Troubadour on a chilly November night, presenting to Los Angeles what is clearly the future of pop rock and roll! Although diverse in sound, the one thing each group had in common was an abundance of talent and energy.
First up was Hidden In Plain View, one of Drive-Thru's newest signings. Although we came in towards the middle of their set, the room was already jammed packed with fans that were singing along and requesting songs for the guys to perform. One of their best was entitled Twenty Below, which is the bonus track from their brand new EP. Hidden In Plain View is a highly likeable band whose infectious songs and sheer talent will take them far.
I am not a huge fan of the Copeland album from The Militia Group, but the band has never failed to bring a sense of wonder and urgency to their live performance. Based out of Atlanta, Georgia, Copeland brought the songs from their CD Beneath Medicine Tree to ultra-vivid life. The winning tunes included Walking Downtown and the dynamic Come Back From California. Hypnotic and vibrant, Copeland really drew the audience in with a warmth and enthusiasm that was contagious. You can bet I'll be seeing the band again and giving their disc another spin.
Count The Stars was up next and nearly blew the roof off the venerable Troubadour. A lot has been going on with these guys, who seem to make gains in fans and momentum with each and every visit to the Southland. If Copeland sent the audience into a blissful state of mind with their compositions, Count The Stars brought on a fury reminiscent of a full speed, head on collision. Jumping all over the stage delivering their mighty rock and roll anthems, Count The Stars had the crowd singing along and dancing all over the place. Killer tunes such as Brand New Skin, The First Time, My Best Mistake, and Better Off AloneNever Be Taken Alive and it's available from Victory Records.
And if Count The Stars didn't zap all of the energy out of the room, The Early November would send many into a whole new realm of pure bliss. Alternating between low-key melodic tunes and all-out rockers, The Early November had something in their set for everyone to enjoy. Performing songs from their full-length Drive Thru debut The Room's Too Cold, the band's set included I Want To Hear You Sad and The Mountain Range In My Living Room. One highlight of the set was when vocalist Arthur Enders sat down with his acoustic guitar and played a highly emotional rendition of Ever So Sweet. The band has really gained momentum with relentless touring and will surely be selling out a much bigger venue the next time they show up in town. Clearly Drive Thru has another big crowd-pleasing winner with The Early November. The coolest thing about all these bands is that they hung out with the kids after the show. An unforgettable night for many with bands that are gonna be huge…
---
VAUX
ACCEPTANCE
The Troubadour
November 30, 2003
From the inspiring rock and roll of Acceptance to the sonic boom known as Vaux, there couldn't have been two dissimilar bands on the same bill. But both groups managed to bring in their own fan base, with many staying to watch and appreciate what the other had to offer. Certainly a rarity from the normally jaded L.A. crowd.
Acceptance hails from Seattle, a town known for its normally depressive rock and roll bands. Owing more to the inspiring anthems of U2 than to anything Nirvana has ever done, Acceptance presented the audience with a high-energy set of tunes. Most of the songs performed were from their terrific Black Lines To Battlefields EP, including Seeing Is Believing, Bleeding Heart and crowd favorite Hold On. Vocalist Jason Vena has an easygoing charisma and draws the listener in with his impassioned vocals. The entire band plays with a good deal of professionalism and may just find themselves on a major label someday. One leaves an Acceptance show with a sense of inner strength, ready to take on the world. Expect to hear a lot more from these guys in the future.
Headlining the evening was the mighty Vaux from Denver, Colorado. These guys really tour their asses off, and the hard work they put into their live shows is definitely paying off. There Must Be Some Way To Stop Them is their Volcom Entertainment release and it's one of the best albums of the year. And in a live setting, Vaux easily bring their brand of musical terrorism to ultra vivid life. One highlight is the three-guitar attack, an effective piece of artillery that has not been used this effectively since the days of Lynyrd Skynyrd. In addition, one of the guitarists produces a mighty wall of keyboard sound in addition to controlling the light and fog show. Vocalist Quentin Smith has a powerful presence, delivering the material in a very in-your-face fashion. Opening the set with the endearingly titled Ride On Bitch, Vaux charged through a thrilling set of tunes. The light show definitely enhanced the dynamic, swirling waves of noise emitting from the Troubadour stage. In addition to songs from their Volcom release, the band performed a new composition entitled Fire and covered Myxomatosis by Radiohead in their very own chaotic style. Whenever Vaux play, whether it's on the Warped Tour or opening for a bigger name band, they almost always steal the show, gaining new fans along the way. Daring to be different in a world of copycats, Vaux succeed on their own terms. Be sure to catch this band when they come to launch their all-out musical attack on your town.
---
CRADLE OF FILTH

TYPE O NEGATIVE

MOONSPELL

The Hollywood Palladium

December 2, 2003
So honestly, does the Hollywood Palladium need to search your ass twice before they let you into the venue? This calls for slower than fuck lines, and most of the crowd don't get to see the first few bands due to early start times. And if the opening act happens to be Moonspell, then you missed an outstanding, mesmerizing performance.
Based out of Portugal, Moonspell has been around for a good number of years, and manage to keep surpassing themselves with each and every album. Their last local appearance was December 2001 at the tiny Fais Do Do, so what an event it was to see the band performing on such a large stage this time around. The opening songs were extremely powerful, starting off with the brutal In And Above Men and the haunting From Lowering Skies – these tunes also happen to be the opening tracks on The Antidote – Moonspell's devastating new album on Century Media Records. Fernando Ribeiro is a compelling front man with charisma to spare, and surely one of the best vocalist the genre has to offer. Combining elements of dark gothic rock and the blackest of metal, Moonspell manage to be very uplifting while chilling the listener to the bone at the very same time. Their set was over way too soon, concluding with the stunning echoes of their classic Full Moon Madness. Here's hoping Moonspell will return and treat their fans to a full on concert – there were certainly many in the audience who knew the words to each and every song.
Next up was Type O Negative, an interesting band based out of Brooklyn, NY who brought the house down with their inspired brand of rock and roll. There are clear elements of goth mixed in with stoner rock, making for a compelling combination of whirling sound. In between drinking from a bottle of wine, guitarist Pete Steel belted out the lead vocals in a cool and commanding fashion. Steel and his bandmates were dressed in orange detention uniforms with the drum and keyboard risers surrounded by fencing, and they delivered a sonic wall of sound to the Palladium masses. Some of the Type O favorites performed were I Know You're Fucking Someone Else, Christian Woman, Love You To Death, and Black #1. Towards the end of the set, the band played a killer rendition of Black Sabbath, with everyone in the near capacity crowd singing along to that classic tune.
Closing off the night on a spectacular note was Cradle Of Filth. The first Black Metal band to be signed on to be a major label, Cradle toured all summer with Ozzfest here in the States. It was quite a gamble for the band to share a stage with a horde of nu-metal trendies, but judging by the diversity in the crowd in attendance on this very night, COF has managed to reach a wide array of fans. Playing songs from their Epic/Sony release Damnation And A Day as well as older crowd favorites, COF delivered a show that many will not soon forget. Gargoyles came to life and a girl danced on a velvet rope hanging from the ceiling. Vocalist Dani Filth growled and screeched out the dark poetic lyrics, while surrounding himself with the most potent COF line-up to date. The keyboards weaved a magical spell throughout the Palladium, with the guitars searing through the madness. Drums were initiated at a fiendish, unearthly pitch while a female vocalist contributed to the atmosphere with sensual singing and spoken word. Although the place was not sold out, there was an impressive crowd in attendance, ensuring that Black Metal is well on its way into the mainstream and will continue to play the bigger venues. With bands like COF spreading the word of the underground through their music and live appearances, the movement has nowhere to go but into the stratosphere. Imagine the possibilities…
---
TREVOR LISSAUER

The Hotel Café

December 5, 2003
Although Trevor Lissauer has been acting for nearly a decade, including two seasons as Miles on Sabrina The Teenage Witch, it was the music that came first in his life. And judging by the collection of songs Trevor and his band performed at The Hotel Café, there is a definite future for this gifted singer/songwriter.
It's been less than a year since the release of Trevor's sophomore CD Transit Plaza, and his set is already jammed packed with all new material. Artists like Elliott Smith and Beck come to mind, and Trevor compares very well to these obvious influences. Spinning introspective tales with a strong sense of irony, songs such as A Creep's Smile and Kevin Comedic show a resourceful performer at the height of his creative prowess. Hover is another outstanding song, a wistful ballad that was really effective live. And when the haunting I'm A Monkey from Transit Plaza was played, the intimate audience at the Café were all singing along to lyrics such as "Fucked up my feng shui" and "You're addicting like heroin."
In addition to Trevor, his amusing banter and trusty guitar, the band consists of Barry Whittaker on bass and Keith Tenenbaum on drums, who color in the songs with a subtle yet highly pronounced rhythm section. With young singer/songwriters beginning to make their mark within the mainstream, the time is right for Trevor Lissauer and his thoughtful musical visions. Be sure to catch Trevor and his band the next time they play the Hotel Café. Check out http://www.trevorlissauer.com for info.
---
FL

THE HIGHER

The Roxy

December 12, 2003
The Higher and FL are two fantastic bands who have a definite future ahead of them. One was first on the bill and the other was the headliner later on that night. And in between was a pay-to-play nightmare made bearable by big glasses of beer and two cute waitresses. Welcome to the Roxy, where up and coming bands are mixed in with starry eyed hopefuls, sharing space on what is perhaps the hottest stage in all of Hollywood, both in temperature and prestige.
Fiddler Records had two acts going on the same night. The Bled was playing down the street at The Whisky while The Higher was making an early appearance at the Roxy. There may not have been a lot of people present at such an early hour, but a band as talented as The Higher will not remain a unknown secret for long. Playing emotionally charged rock that is fueled with an infectious energy, this young band should win over those who like artists such as Blink 182, New Found Glory and some of the bands on the Drive-Thru roster. In their short set, The Higher present a wistful, haunting sound that permeates through the jangling melodies. Song such as One For Hope and Black Sunday stood out, delivered with emotion and insight. Vocalist Seth Trotter sings with a good deal of passion and is an effective frontman. Tom Oakes and James Mattison really shred on guitar while the rhythm section is handled with a good deal of precision by bassist Jason Centeno and drummer Pat Harter. The Higher has an EP out entitled Star Is Dead that shows a good deal of promise. With tuneful compositions and an exuberant stage show, expect The Higher to gain a good deal of attention in the new year and become your next favorite band.
After a few hours and a mismatch of groups that left no lasting impression, the headlining band FL finally took to the stage. I saw FL at the Warped Tour in Pomona over the summer and was impressed by their show. While they remain unsigned, FL has gained quite a following over the last few months. While it was vocalist Jonathan Jonah's birthday, it would be the crowd who was in for a real treat.
Combining a punk rock attitude with a fierce rock and roll appeal and a whole ton of fun, FL delivered a dynamic set that really woke up the packed venue. At the front of the stage were some of the hottest chicks you would ever see at a show, all dancing and singing along to the FL songs. There were quite a few guys too who were really into the party atmosphere and good humor found within the FL set. Performing selections from their What Does That Stand For release, songs such as Heroes, Man Of Your Dreams, and All By Myself really hit big with The Roxy crowd. One of the highlights was a newer song called The Shocker, filled with a raunchy humor that was highly infectious. One of the best aspects of the band is the star presence of their vocalist/guitarist Jonathan Jonah, whose sex appeal and confidence reeled in the girls yet whose talent and unaffected vocal delivery was appreciated by all in attendance. Combining qualities that made charismatic frontmen such as Axl Rose and Vince Neil so popular, Jonah's is one of the most promising singers on the local scene today. And the rest of FL rock out with the very best of them too, with axeman Chris firing off the supersonic riffs with a powerful sense of conviction. Pete on bass and Matt on drums give the FL sound a strong, driving beat that never lets up. It's been ages since a rock band this good has emerged from Hollywood, and FL will definitely give this town a lot to talk on about in the future. Visit the FL site at www.fltheband.com and be sure to snag a copy of their Rancho Relaxo release What Does That Stand For.
---
JAMISON PARKER

Bottom Of The Hill

December 15, 2003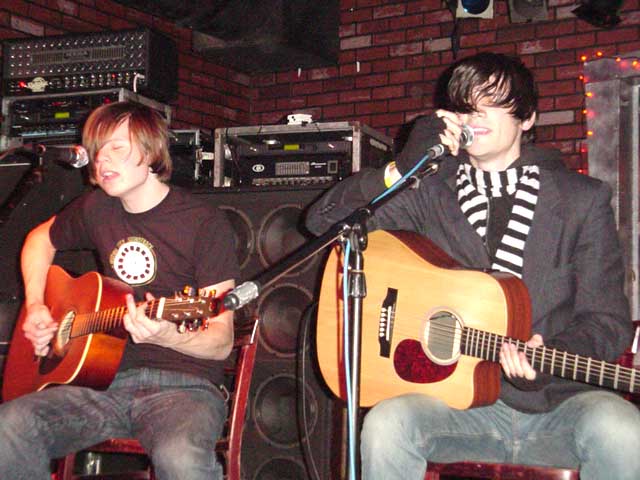 On tour with punk rock rowdies Allister and Homegrown, one could only wonder how a pop outfit such as Jamisonparker would fair. And especially since this time around they were playing an acoustic set. The night was chilly and it appeared that many of the band members were harboring colds. After being greeted by the much-revered Mr. Nancy of Fabulous Disaster who works at the venue, we went by the front of the stage where a collection of pretty girls and sad looking emo boys were waiting for the show to begin. After a brief set from opening band Mug Shot, Parker Case and Jamison Covington arrived on stage, taking their seats and then proceeding to impress the room with their infectious tunes and friendly demeanor. Performing songs from their just released Interscope EP entitled Notes & Photographs, Jamison sang the darkly poetic lyrics strumming away on guitar while Parker did the guitar leads and supplied many impressive vocal harmonies. While the melodies are sweet and infectious, the lyrics have a bitter quality to them. Your Song was impressive with an extremely catchy chorus and had many in the crowd singing along. A new song called Paper Rock Scissors was played, a preview of what is surely on the way when the guys record their full-length album.
Jamisonparker closed out the set with Dead To The World, which showcased some terrific two-part harmonies. Whether performing acoustic like they did this night at the Bottom Of The Hill or playing with a full band, there is little doubt that Jamisonparker will find themselves a household name in no time. Fans of well written pop songs are sure to enjoy what these talented musicians have to offer. Watch out next as they tour with another unlikely pair of bands – namely Coheed & Cambria and Vaux!
---
OTHER CONCERT REVIEWS
OPETH

NILE

LACUNA COIL

BEHEMOTH

Universal Amphitheatre

May 3, 2003
The Blackest Of The Black Tour had finally arrived in the Southland. And thanks to the considerable influence of the mighty Danzig, many of the opening bands were playing the huge Universal Amphitheatre for the very first time. It looked kind of empty at first due to the ungodly, non-metal 6PM starting time, but the place filled pretty fast once the music started.
The black mass kicked off on a ferocious note when Behemoth took over the stage. Poland lays claim to some of the most brutal death metal bands on the planet, and Behemoth is no exception. Performing tracks from all of their albums, including their latest Here And Beyond release, the band shot the early arrivers into a hellish oblivion with their over the top and through the roof compositions of sheer darkness and evil.
Lacuna Coil from Italy was up next, and delivered a perfect set of sensuous, gothic metal. Cristina Scabbia was a goddess onstage, her hair flying in the wind as she sang. Scabbia is so electrifying; one almost forgets that there is a whole other band behind her. The vocal interplay between her and Andrea Ferro is haunting and inspiring. The music wove its way through the Universal Amphitheatre putting the entire venue under an enchanting spell. Songs performed included the astounding Heaven's A Lie and the mystical Senzafine. My only complaint was that Lacuna Coil only played for like half an hour! Here's hoping they can come back to the States soon and play a much longer set!
From the catacombs of South Carolina came Nile, ready to infect the crowd with their unique brand of extreme metal mixed with a decidedly Middle Eastern flavor. Karl Sanders and company stunned the crowd with songs from albums such as Black Seeds of Vengeance and In Their Darkened Shrines. Sanders is a whiz on guitar, filling the air with a blasting wall of sonic noise. The entire band unleashed a fury of sound that the Amphitheatre hasn't heard since the last time Morbid Angel played there.
While Opeth performed their set of epic, intricate songs, there were kids in the pit screaming, "Why aren't you headlining?" Gaining a ton of respect due to their two current releases Damnation and Deliverance, their live shows have proven to be just as intricate as their recorded masterpieces. Lead vocalist/guitarist Mikael Åkerfeldt is the true definition of metal cool, speaking eloquently in between songs and alternating between haunting clear vocals and a mighty roar that tears through the soul. Highlight of the set was The Drapery Falls, a devastating song that remains Opeth's finest musical hour. It was great to see Opeth on such a large stage, filling the room with their brutal yet artistic compositions. Even Highwire Daze Bret liked them and he hates everything.
Missed Danzig and Superjoint cuz we got caught at the party hardy backstage. Still a night to remember! If it didn't take so long to find the car, but that is another story entirely…
---
A STATIC LULLABY

TIME IN MALTA

THE BLED

ARMOR FOR SLEEP

BROKEN FRONT

The Showcase Theater

May 30, 2003
Every time Highwire Daze Bret and I go to The Showcase, the place is usually packed to the rafters with some of the rowdiest kids and coolest bands I have ever seen. This Friday night at The Showcase was no exception. It was the beginning of a two-night stand for A Static Lullaby, and the hometown shows were completely sold out.
While not on the tour, opening band Broken Front appeared to have a good deal of fans in the audience. One of the more promising hardcore bands on the local scene right now, Broken Front really got the crowd going early on. The first time I saw them was at the Chain Reaction, when lead vocalist Josh had black stuff smeared all over this eyes and face. Sans the make-up, he and the band delivered a fiery set of tunes. For such a young band, these guys perform like total pros and could have a bright future ahead of them. Be sure to check out their just released EP Darkest Days and see what the hype is all about.
Odd man on the bill was Armor For Sleep, who have more in common with their emo and melodic punk brethren than with the other hardcore bands on the bill. Nevertheless, they were heavy enough to really make an impact on The Showcase crowd. Their album Dream To Make Believe is filled with catchy tunes, and they work out well in a live setting. Lead vocalist/guitarist Ben Jorgensen is a talented songwriter and displays plenty of passion and energy in a live setting. One of the most exciting rock bands to emerge, labeling Armor For Sleep in just one genre is doing them a severe injustice. Fans of any kind of good music will find something to like about this captivating band and their reflective tunes.
Already having toured with the likes of The Dillinger Escape Plan and Thrice, The Bled have plenty of road experience, and delivered a mighty set of metallic hardcore. Many in the audience had not even heard of them, but all were won over by set's end. Hailing from Tucson, Arizona, The Bled played songs from their soon to be released Pass The Flask CD. Their very shaggy lead vocalist James Muniz screamed his lungs out as the band played on with a terrifying fury. Jeremy Talley and Ross Ott supply a dual guitar assault, filling the air with a violent wall of sound. Two Mikes (Celi and Pedicone) supply a mighty rhythm section that would do Dillinger and Converge proud. Even though their songs were unknown, this factor did not even stop a mosh pit from ensuing. By the way, their tune Ruth Buzzy Better Watch Her Back gets my kool song title of the month award.
Although Highwire Daze Bret professes to hate hardcore music, he found a lot to like about Time In Malta. The band features precision math-rock musicianship and a vocalist who mixes hardcore singing with a Lemmy/Motorhead like rasp. Based out of the Bay Area, Time In Malta provided a thrilling set that kept even the most jaded of music critic interested. And believe me, we have a few of those on the Highwire Daze staff for sure. Highlights of the set included Rekindle and their brilliant anthem I Am Against The Tide.
It was now time for A Static Lullaby to take over the stage, and naturally sheer chaos ensued. While some girl in the back was screaming about how drummer Brett cut off "all his beautiful hair," others were mesmerized by what would be an impressive show. While their debut album And Don't Forget To Breathe has gained the band a good deal of accolades, it's their in-you-face live show that really has gotten the band noticed. Incessant touring has really made the band a tight, unstoppable unit that the bigger labels have surely taken notice of by now. Screamer Joe Brown has a good deal of stage presence, while guitarist Dan Arnold and bassist Phil Pirrone supply a lot of the clear vocals. Arnold and fellow guitarist Nathan Lindeman crash though the sound barrier, their playing always solid and full. And even in spite of the so-called hair fiasco, Brett Dinovo is an outstanding drummer, supplying the band with a ferocious beat. Favorites such as Lipgloss And Letdowns and The Shooting Star The Destroyed Us All were performed. By the end of the set, most of the Showcase crowd could be found on the stage, singing along or wrecking havoc. I will have to check and see if The Showcase remains in one piece after a second night of aural assaults from A Static Lullaby. In the meantime, be sure to see the band the next time they show up in your town – which judging by their touring schedule, is probably sooner than you think…
---
SINAI BEACH

FALL OUT BOY

The Chain Reaction

June 13, 2003
Here is a case of two mismatched bands who still managed to impress. Fall Out Boy from Chicago has a lot more in common with bands like The Starting Line and Finch, yet the hardcore kids seemed to enjoy them. Many in the crowd were actually singing along to the wildly infectious songs. Playing tunes from their Take This To The Grave album, Fall Out Boy performed with a dynamic exuberance. Best in the set included Dead On Arrival, Grand Theft Autumn/Where Is Your Boy, and Chicago Is So Two Years Ago. Fans of edgy melodic punk will surely want to check out Fall Out Boy. Yet another reason why Midwest pop and punk is becoming so well known.
Up next was Sinai Beach, a metallic hardcore band from Riverside. Even before the band started playing, a mosh pit started, perhaps in anticipation of things to come. While the music is heavier than hell, the message is one of a spiritual nature, and Sinai Beach is not afraid to let their messages be known through song and occasional preaching from the stage. Vocalist CJ has a dynamic presence and invited many of the kids to sing along to songs such as Candace, Man Or Animal, and My Gun Your Bullets. Although the church lady would not find this group special in the least, fans of brutal hardcore will definitely want to check out what Sinai Beach has to offer. Expect to be blown away by their live set and When Breath Escapes, their powerful debut from Facedown Records.
---
DEAD POETIC

THE PITS

The Knitting Factory – LA

June 19, 2003
When I first heard Dead Poetic would be playing at the Alterknit Lounge at the Knitting Factory, there were questions in my mind as to if the very small room would even be able to handle such a sonic assault. And what would happen if someone even dared to start a slam pit in that dinky little room? All these questions will be answered within this review.
First up was The Pits, a rock band from Columbus Ohio who combine passionate emo inflections with some really clever, technical musicianship. Playing Los Angeles for the first time, The Pits presented a solid set that had many in the audience take notice. The vocalist sang with a lot of feeling, reeling the listener in. The musicianship in this band is excellent and wildly unpredictable, especially the lead guitarist who came up with a lot of great parts that even Yngwie could not conceive of. Their debut album is entitled Rational-Order and it's available from Angry Son Records.
When Dead Poetic came on, the room was totally full. Another band from the Columbus, Ohio area, Dead Poetic combine clean vocals with screaming hardcore passages, coming up with an extremely memorable sound. In addition to the songs from their Solid State release Four Wall Blackmail, the band unleashed a few new tunes – including Taste The Red Hands and The Dreamclub Murders. Vocalist Brandon remarked it was like playing a really cool party in someone's living room – intimate yet dangerous. Standing right by the stage, you had the vocalist screaming in your face and the musicians practically sweating on you. The band played loud and finally at the end, a mosh pit erupted, albeit a rather well behaved one. It was a real treat to see the mighty Dead Poetic play in such a small venue with all the fans singing along with each and every song. This is one band that is sure to break out in a big and glorious way! Be sure to check them out when they show up in your town or at this year's Furnacefest if you happen to be in Birmingham, Alabama in mid-August.
---
---
WHERE TO NOW ST. PETER?
---
Free Counter
---